Daily Specials
---
Every day from 3 to 6:30 PM, and all day on Sundays. In the lounge only with a drink purchase.
---
Monday: "Micro Monday" All micro beers are $5.25
Tuesday: "2 fer Tuesday" 1 food item & 1 bottle of beer or well drink $12
Wednesday: CLOSED
Thursday: CLOSED
Friday: "Martini Friday" All Martinis are $10
Saturday: "Sipping Saturday" Any glass of house wine $8.50
Sunday: "All Day Happy Hour" All the drink specials and food items, all day!!!
---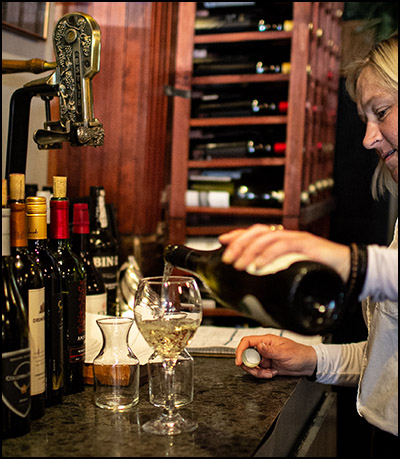 Pan-fried Oysters
4 Willapa Bay oysters dusted in seasoned flour & pan-fried. Served on caramelized onions with tartar sauce. $9
Soup Du Jour
A bowl of our daily homemade soup. $6
Crispy Artichoke Hearts
Hearts dusted with flour, fried, and tossed with parmesan cheese and black pepper. Served with chipotle ranch dip. $10.50
4 Oyster Shooters*
A blend of cheeses and garlic herb butter on toasted French bread. $10
Clam Chowder
A bowl of our award winning New England style clam chowder. $7.50
Smoked Salmon Sliders
House smoked salmon, herb breadcrumbs remoulade & iceberg laced with a sweet chilli aioli on slider buns. $12
Pacific Rim Cheese Bread
Nine large Shrimp served with our house made cocktail sauce and fresh lemon. $15
Calamari Fritti
Dusted with seasoned flour and golden fried. Served with tartar. $12.50
Calamari Friti
Dusted with seasoned flour and golden fried. Served with tartar. $12.50
Skinny Garlic Fries
A basket of our skinny fries tossed with fresh garlic & herbs. $5
Sweet Potato Fries
A basket of sweet potato fries with honey mustard. $5
Margherita Flatbread
Plum tomatoes, fresh mozzarella, garlic, olive oil, asiago cheese & fresh sweet basil on flat bread. $10
Tiger Shrimp Cocktail
9 large shrimp served with house cocktail sauce. $12
Caesar Salad*
Romaine, croutons and parmesan cheese tossed with our zesty Caesar dressing. $6
Smoked Salmon Cheese Bread
Our cheese bread with our house smoked salmon crumbled on top. $8
Government Consumer Advisory:
*Consuming raw or undercooked meats, poultry, seafood, shellfish, or eggs may increase your risk of foodborne illness. Menu items with an * may contain raw egg, are raw or under-cooked.
Food Allergies:
Please let your server know of any allergies or special dietary concerns you may have.Your server can give you guidance on which menu items meet your dietary needs.Thank you for assisting us in making your dining experience safe and enjoyable!