Silver Salmon Grille History
The building we occupy (The Fisher Building) was designed & built by John E. Wicks in 1924. It was the home of Thiel Brothers Restaurant for fifty years, and was one of the premier eateries in the region. In 1974 it was renamed The Brass Rail (after the brass foot rail on the base of the bar) and was such until a fire in 1997. It was renovated and reopened as Pacific Pizza & Pasta in 1999 & 2000.
The amazing 139 year old antique back-bar in the lounge is constructed of Scottish Cherry wood. It was shipped around Cape Horn in the 1880's. It was first used in Anna Bays Social Club, a house of ill-repute here in Astoria in the latter part of the 19th century. It was then abandoned in the 1920's at the Port of Astoria. In the late 1940's it was found and refurbished over a three year period and installed in the early 1950's in its present location.
---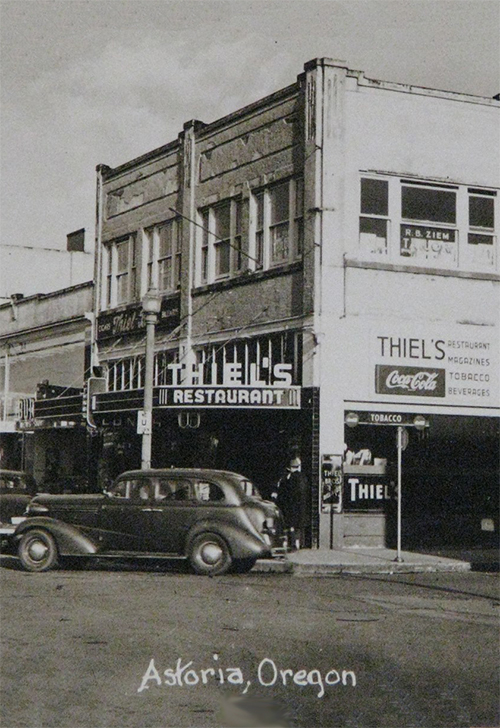 Owners Jeff & Laurie Martin purchased the restaurant in January 2001 and remodeled once again to its present state. The beautiful fish murals and metal sculptures were done by local artists Peter Peterson and Vern Wilson respectively. The winners of our annual anniversary coloring contest, held each year on the last Tuesday of February, are displayed throughout the restaurant. Everyone is invited to participate and join the fun!
Allow us to make your next party or business meeting extra special. Banquet rooms are available at the Silver Salmon Grille, as well as catering services to your location. If ever you have a special request please ask and we will try to accommodate your wishes whenever possible. Thank you very much for dining with us!
Your Hosts,
Jeff and Laurie Martin