Skinny Garlic Fries


$4.50
---
A basket of our skinny fries tossed with fresh garlic & herbs.
---
Turkey Swiss Melt


$6
---
Oven roasted turkey served open faced on french bread with swiss cheese, tomatoes and roasted garlic mayonnaise.
---
Smoked Gouda Cheese Burger


$8
---
Served with lettuce, tomato, and onion with our house burger sauce.
---
Calamari Fritti


$12.50
---
Dusted with seasoned flour and golden fried. Served with tartar sauce.
---
---
Pacific Rim Cheese Bread


$8.75
---
A blend of cheeses and garlic butter on toasted french bread.
---
Halibut Fish & Chips Taster

$9
---
Two pieces of our beer-battered, deep-fried halibut, served with shoestring fries.
---
Willapa Bay Oyster Stew


$17.50
---
Fresh Willapa Bay oysters sautéed with mushrooms & green onions finished in a sherry garlic cream. Served with garlic toast.
---
Roasted Garlic & Brie with Smoked Salmon


$12.75
---
Brie cheese spread with roasted garlic, house smoked salmon, green onions & herb bread crumbs. Baked and served with toasted sourdough bread on the side.
---
Blackened Steak Tips


$13.50
---
Choice steak tips dusted with cajun spices & blackened. Served with caramelized onions & bleu cheese dipping sauce.
---
*Oysters on the Half Shell
Half Doz. $14 Full Doz. $26
---
Fresh Willapa Bay oysters shucked to order. Served with a sesame vinaigrette & cocktail sauce.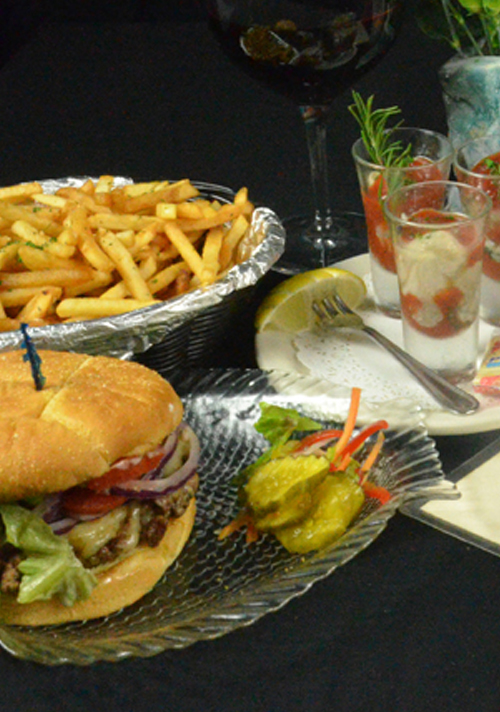 Dungeness Crab & Provolone Cakes


$17
---
Fresh Dungeness crab, provolone cheese and herb bread crumbs butter grilled. Drizzled with a Southwest aioli sauce.
---
Crispy Artichoke Hearts


$11.50
---
Artichoke hearts fried in seasoned flour, sprinkled with parmesan cheese and cracked black pepper. Served with chipotle ranch dip.
---
Steamer Clams


$18
---
1 ½ pounds fresh Manila clams sautéed with scallions, tomato, fresh herbs, garlic, butter, and beer. Served with garlic cheese toast and drawn butter.
---
Deep-fried Chicken Livers


$8
---
Deep-fried in our seasoned flour. Served with ranch dressing.
---
Award Winning Clam Chowder
---
Bowl $8     Cup $6    
Chowder & Cheese Bread $12.25    
Chowder & Smoked Salmon Cheese Bread $15.25
---
Soup du Jour
---
---
*Consuming raw seafood may increase your risk of foodborne illness.